JOHN JAY BOYS SOCCER
Fall 2018 Varsity Game Schedule
for the latest schedule updates and John Jay Soccer news
Note: You can go to http://sportspak.swboces.org/sportspak/oecgi3.exe/O4W_GAMES_SCHEDS (click on Schedules, then put in JJ info.) to get the latest up to date schedule. The schedule below may not reflect recent changes.
Schedule below is a very tentative schedule. It will likely be changed a number of times before September, so keep checking back for the latest updates.
Scrimmage - Wed. Aug 22nd ~ at Yorktown 2pm Tie 0 - 0
Scrimmage - Thurs. Aug 23rd ~ at Byram Hills Time: 10am - Varsity Only Win 2 - 0
Scrimmage - Fri. Aug 24th ~ at Newburgh Free Academy Time: 10am (201 Fullerton Ave, Newburgh, NY 12550) Varsity Only Win 2 - 1
Scrimmage - Mon. Aug 27th ~ Home vs. Lourdes 10am - Varsity Only Win 7 - 0
Regular Season Schedule: HOME TEAMS WEAR DARK THIS YEAR......AWAY TEAMS WEAR WHITE.
Sat. Sept. 1st ~ at Monroe Woodbury 11am Loss 3 - 1 {Gomez (Rabadi) 5 min} Gk: Morizet (12)
Tues. Sept 4th ~ at White Plainis 4:30pm Win 2 - 0 {Gomez (Casablanco) 56 min, Rabadi 79 min.} Gk's: Koenig and Morizet (11)
Sat. Sept. 8th ~ at Fox Lane 6pm Win 4 - 0 {Casablanco (Tricarico) 42 min, Casablanco (Krajeski) 43 min, Rabadi (Casablanco) 45 min, Krajeski (Murray) 71 min.} Gk's: Koenig and Morizet (7)
Wed. Sept. 12th ~ Home vs. Ramapo 4:30pm Win 3 - 0 {Molina (Troche) 11 min., Casablanco 23 min, Gomez (Krajeski) 47 min.} Gk's: Koenig and Morizet (9)
Fri. Sept 14th ~ at Port Chester 4:30pm Win 2 - 1 OT {Casablanco (Fornelos) 68 min, Moore 83 min.} Gk: Koenig (8)
Mon. Sept. 17th ~ New Rochelle HOME ~ at 6:30pm Tie 0 - 0 OT Gk's: Morizet and Koenig (13)
Thurs. Sept. 20th ~ at RCK 6:30pm Tie 1 - 1 OT {Gomez (Tricarico) 75 min. Gk's: Morizet and Koenig (9 )
Mon. Sept 24th ~ Home vs. Arlington 4:30pm - Win 1 - 0 {Tricarico (Casablanco) 73 min.} Gk's: Koenig and Morizet (10)
Wed. Sept. 26th ~ at Carmel 4:30pm - Win 2 - 0 {Gomez (Caragine) 33 min., Caragine (Casablanco) 71 min.} Gk's: Morizet and Koenig (5)
Sat. Sept 29th ~ Home vs. Mamaroneck 4:30pm Tie 2 - 2 OT {Molina (Rabadi) 71 min., Krajeski (Hallgren) 79 min.} Gk's: Koenig and Morizet (5)
Mon. Oct. 1st ~ Home vs. RCK 6pm - Caswell Memorial Soccer Game Loss 3 - 2 OT Mark Tricarico wins the Defensive MVP Award
Tues. Oct. 2nd ~ Home vs. Scarsdale 5pm Win 1 - 0 {Tricarico 1 min.} Gk's: Koenig (4)
Tues. Oct. 9th ~ at Arlington 4:15pm Tie 0 - 0 OT Gk's: Morizet and Koenig (12)
Wed. Oct. 10th ~ Home vs. Carmel 4pm - Senior Night Win 3 - 0 {Casablanco (Gomez) 2 min, Gomez (Casablanco) 35 min., Gomez 71 min.} Gk's: Morizet and Koenig (9)
Sat. Oct. 13th ~ at Mahopac 6:00pm Win 3 - 2 {Gomez (Trouche) 7 min., Gomez (Krajeski) 37 min., Gomez (Fornelos) 65 min.} Gk's: Morizet and Koenig (6)
Mon. Oct. 15th ~ Home vs. Mahopac 4:15pm Win 4 - 0 {Gomez (Ludwig) 29 min., Casablanco 40 min., Krajeski (Fornelos) 55 min, Gomez 79 min.} Gk's: Morizet and Koenig (3)
Final Regular Season Record: 10 - 2 - 4 (5 - 1 - 2)
1st Place in the League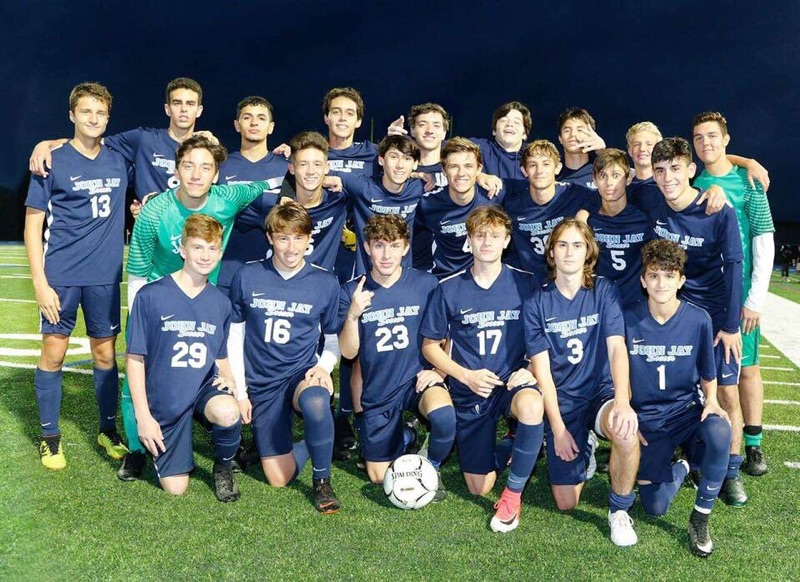 Sectionals:
1st Round game: Fri. Oct. 19th at 3pm Home - # 2 seed John Jay vs #15 Portchester Win 1 - 0 {Casablanco (Gomez) 50 min.} Gk: Morizet (6)
Quarter Finals: Mon. Oct. 22nd at 3pm Home - # 2 seed John Jay vs. # 10 Mamaroneck Win 1 - 0 {Molina (Caragine) 64 min.} Gk: Morizet (4)
Semin Finals: Wed. Oct 24th Time and Opponent # 2 seed John Jay vs. # 6 RCK Loss 2 - 1 OT {Rabadi 8 min} Gk: Morizet (9)
Final Record: 12 - 3 - 4
Ranked 15th in New York State http://www.newyorksportswriters.org/rankings/2018-bsoc-10.shtml
Monroe wins the State Title: http://www.newyorksportswriters.org/brackets/2018-boys-soccer-aa.shtml
Back to Boys Soccer Back to Soccer Home